Polki Jewellery: The Royal Feel
Posted by PP JEWELLER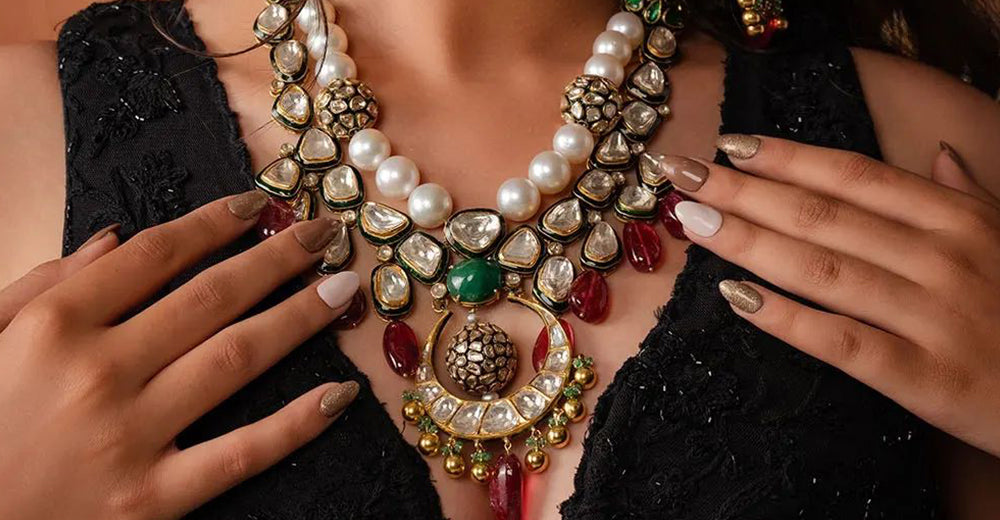 Make a statement with the exquisite Polki jewellery!
What is Polki Jewellery?
Polki is traditional Indian jewellery being worn by royalty and the elite for centuries. It is an intricate and timeless piece of art that exudes elegance and grandeur. Polki jewellery is made with uncut diamonds set in gold or silver and is popularly known as Kundan jewellery.
Polki jewellery is not just an accessory; it is a work of art that represents the culture and traditions of India. This jewellery is not only popular in India but has gained popularity worldwide. With a perfect blend of modern and traditional designs, it suits women of all ages.
What makes it unique?
Polki jewellery is unique and valuable because of the uncut diamonds used in its making. Uncut diamonds are rare and can only be found in a few places, including India. 
Polki jewellery is a versatile accessory that can be worn with traditional and western outfits, making it a popular choice among brides.
Polki jewellery symbolizes India's rich cultural heritage and traditions. It represents craftsmanship and the artistry of Indian jewellery making.
Polki Jewellery and Indian Weddings 
Polki jewellery is an essential part of Indian weddings. Brides wear Polki jewellery sets on their wedding day, which include a necklace, earrings, bangles, and a maang tikka. These jewellery sets are usually passed down from generation to generation and are considered family heirlooms. 
Matching Jewellery with Outfits
Polki jewellery is available in various designs and colours, making it easy to match any outfit. It is usually paired with traditional Indian outfits such as sarees, lehengas, and salwar kameez.
The jewellery can be designed to match the bride's outfit, and the diamonds can be set in different metals such as gold, silver, or platinum.
Red Carpet Fashion Celebrities and Polki Jewellery
Polki jewellery has gained popularity worldwide and is often seen on the red carpet. At various events, Bollywood celebrities such as Deepika Padukone, Aishwarya Rai, and Sonam Kapoor have been spotted wearing Polki jewellery.
Whether it is a traditional Indian wedding or a red-carpet event, Polki jewellery never fails to make a statement. It is a versatile accessory that can elevate any outfit, adding a touch of sophistication and glamour. With its timeless beauty and rarity, Polki jewellery is a valuable and unique piece of art cherished by women worldwide.