How to Choose the Right Jewelry for Your Skin Tone and Face Shape
Posted by PP JEWELLER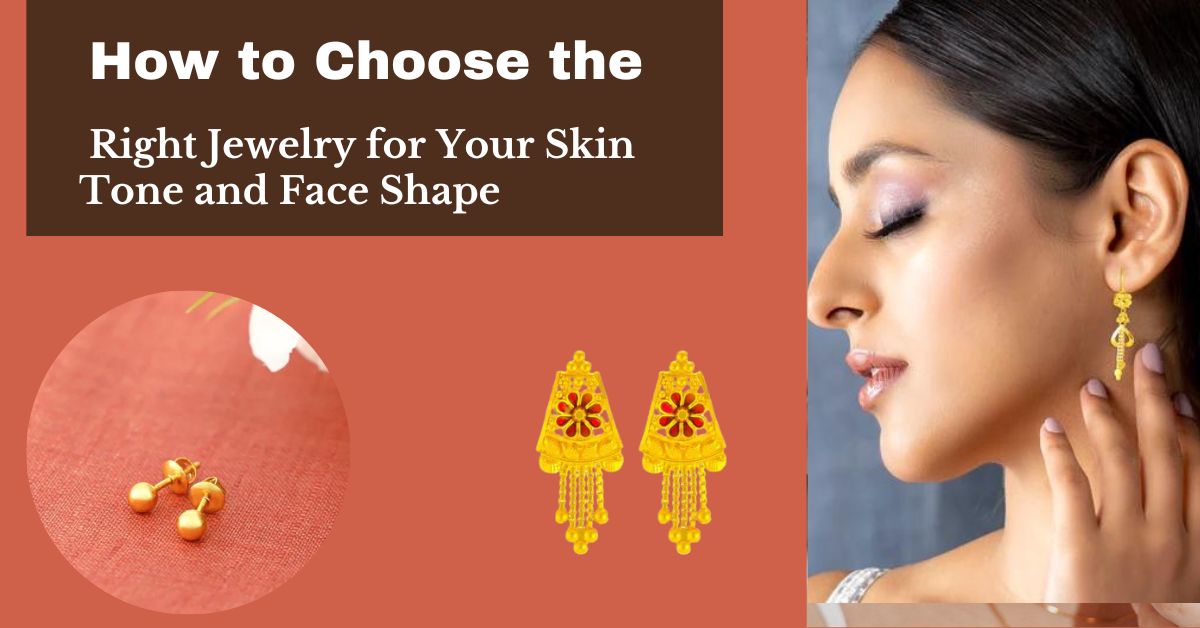 You may appear gorgeous for any occasion by choosing jewelry that not only compliments your skin tone but also enhances your physical characteristics. Whether you're looking for gold kadas for men or gold earrings for girls, it's critical to take your face shape and skin tone into account to select the ideal item. This guide will assist you in navigating through a variety of possibilities, from gold mangal sutra earrings for girls to helping you pick the perfect jewelry items that enhance your beauty.
1. Determine your skin tone
Finding out whether you have a warm, cool, or neutral undertone is the first step in selecting jewelry that matches your skin tone. Look at the veins on your wrist in the daylight to do this. You have a cold undertone if your veins are blue or purple, a warm undertone if green, and a neutral undertone if they mix blue and green. 
Choose white gold or platinum jewelry, as well as accessories with accents of blue, purple, or red gemstones, for cool skin tones. Warm skin tones look best when paired with rose gold or yellow gold jewelry and gems with green, orange, or yellow tones. Both different types of gold and a variety of gemstone colors are adaptable for those with neutral undertones.
2. Identify your face shape
When choosing jewelry to accentuate your facial features, it is essential to understand your face shape. The most famous face shapes and related jewelry choices are shown below:
 

Oval: With nearly any form of jewelry, this balanced facial shape looks fantastic. Select angular gold earrings for girls or a combination of rounded and angular gold earrings for girls. Additionally, maang tikka gold jewelry looks good on this facial type.
Round: Choose long, vertical, or dangling earrings for girls and gold earrings for women with elongated shapes to lengthen a round face. A gold necklace set with a V shape can also aid in the appearance of length.
Square: A square face's robust features can be balanced by softer, rounder jewelry designs. Choose gold jewelry with rounded or curved elements, such as gold rings for girls and gold earrings for women.
Heart: Choose gold earrings for women that provide breadth to the jawline to balance a smaller chin and enhance a heart-shaped face. It's best to wear chandelier or teardrop earrings. A gold mangal sutra or necklace set hanging around the collarbone is more option.
Rectangular

:

gold earrings for girls and short, wide earrings might soften a rectangle face's angular characteristics. When wearing choker-style jewelry, choose a gold necklace set that hangs above the neckline.
3. Jewelry should complement your facial features.
Consider your facial traits in addition to your face shape while choosing jewelry. Choose delicate gold earrings for girls, gold rings for girls, and a little gold necklace set, for instance, if your face is more petite. A  gold kada for men, a gold ring for men, or a gold mangal sutra are good choices if you have more significant or more noticeable features, on the other hand.
Conclusion 
It's crucial to comprehend your skin tone and face shape while choosing jewelry that harmonizes with your appearance. With this knowledge, you may confidently select accessories highlighting your distinctive traits, like gold kadas for men or gold earrings for women. Try out various jewelry combinations, such as maang tikka gold and gold rings for women, to get the ideal accessories ensemble that will make you feel stunning, self-assured, and fashionable for any situation.