Beautiful Bridal Engagement Rings Under Budget
Posted by PP JEWELLER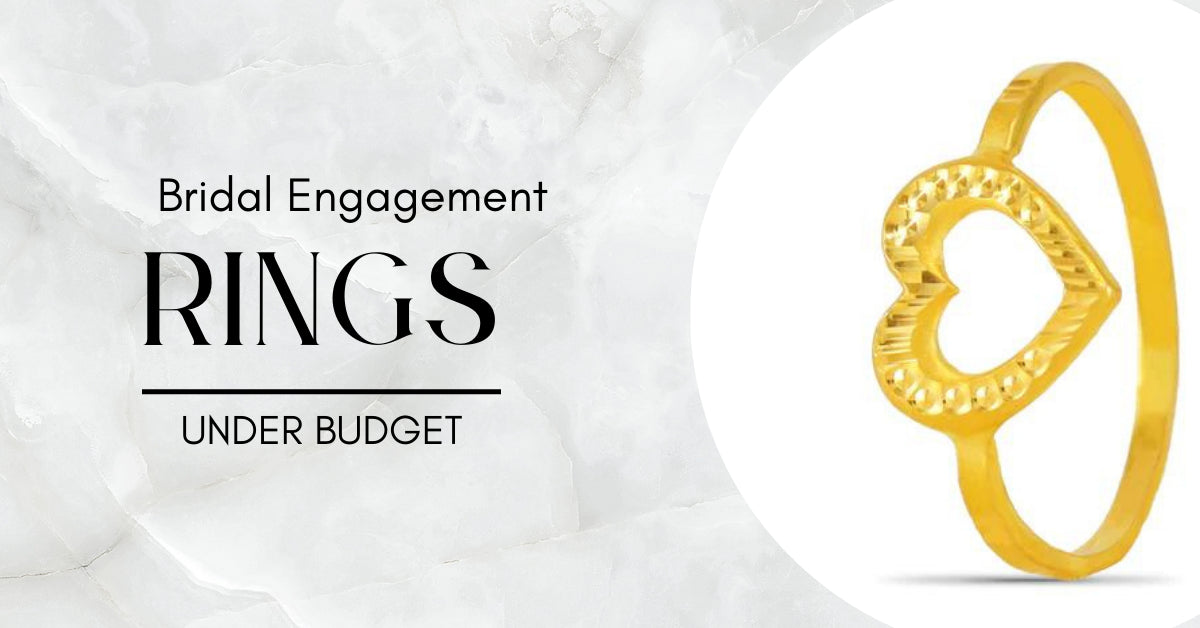 Beautiful engagement rings don't have to be expensive. There are several incredibly Beautiful Bridal engagement rings that are also affordable. And if you're looking for one of these stunning yet cheap-priced engagement rings, we can assist. The four most excellent inexpensive engagement ring designs are highlighted below, along with our favorite options for each type. We'll also provide some helpful advice on ho w specific ring design elements can help you achieve a more glam look while spending less throughout this post.
1. Solitaire Engagement Rings
Setting a card in solitaire is a timeless and elegant choice. Due to the absence of diamonds or other precious stones on a solitaire band, they are also naturally more affordable than any other engagement ring. So, looking into solitaire styles is a fantastic place to start if you want a cheap engagement ring.
This beautiful, delicately detailed Art Inspired solitaire engagement ring is one of Their favorite reasonably priced settings. With its thin band and conventional 4-prong center stone setting, this ring has everything a traditional solitaire ring should have when seen from above. Yet, when viewed from the side, you can see that this item has romantic detailing hidden behind its floating prong setting, adding a distinctive touch to this traditional design.
2. Engagement Rings With Elongated Center Stones
Did you know some diamond shapes appear more significant than others in carat weight? Depending on the shape of the diamond, its table may have more surface area (it's top). When set in jewelry, diamonds are seen from above, and those with long tables will appear larger per carat than those without. Because of this, elongated diamond shapes like oval, emerald, marquise, and pear have an advantage in size that can help you stretch your budget. In addition, fancy-shaped diamonds are less expensive than diamonds with a brilliant round cut. Therefore, any engagement ring can be made much more affordable by selecting an elongated fancy diamond shape as the center stone.
This stunning halo pear-shaped diamond ring is currently one of Their favorite designs with an elongated center stone. This ring's eye-catching, incredibly glamorous design has much to love, like its distinctive diamond shape. Additionally, this ring has several other design elements that help to maximize its appearance of size and glitz. This gleaming 14k white gold ring has a halo setting that increases impact, a thin band that makes the ring's focal point appear more significant in comparison, and diamonds on the bar that improve the overall size of the ring. These components combine to make an engagement ring with a critical wow factor.
3. Pavé Diamond Engagement Rings
Pavé diamond embellishments are a cost-effective method to give your engagement ring a serious glimmer. Pavé band rings are a fantastic choice if you want an affordable engagement ring that's nonetheless stunning because the human eye sees more excellent brilliance as being more prominent, making your engagement ring look larger overall.
This elegant, sparkling micro pavé engagement ring is Their top pick in the pavé band category. This design has a timeless appearance, but it also has icy, upscale detailing. The 18k white gold ring's upper shank is covered in micro-pavé-set diamonds, which give the band's top and sides more shine. These pavé accents provide the impression that the ring is entirely covered with diamonds when it is worn.
4. Colored Gemstone Engagement Rings
Engagement rings with colorful gemstones are distinctive and stunning. These are a beautiful yet cost-effective option because they are often far more affordable than diamond engagement rings.
Le Vian's breathtakingly gorgeous gemstone ring is Their choice for the colored gemstone category. This stunning piece is made of the brand's distinctive 14k Strawberry Gold and has a rose gold ring with diamonds put in it. This ring's warm band, which has diamond accents and a lovely interlocking design, makes a fantastic backdrop for the ring's oval-cut, lush green Pistachio Diopside center stone.