6 Latest Gold Jewellery Ideas for Wedding
Posted by PP JEWELLER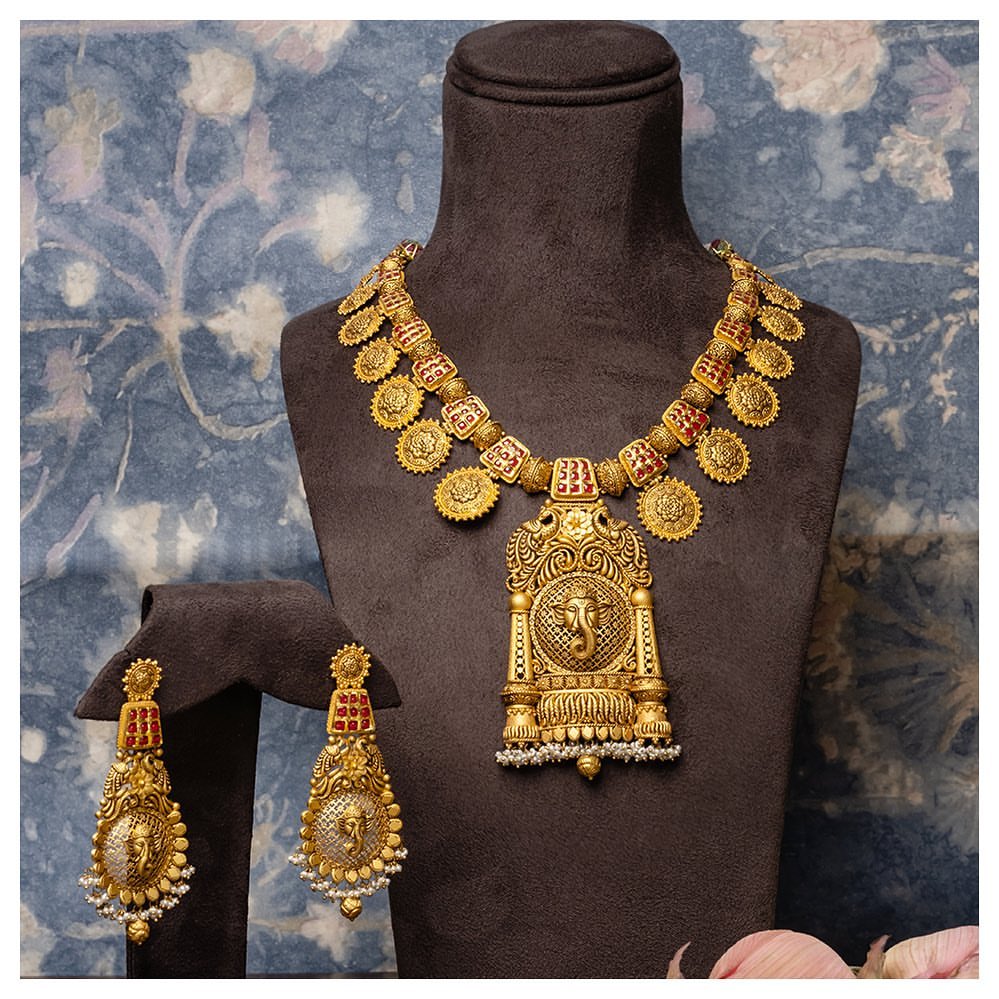 Jewelry makes a lady whole and is an essential component of a bride's attire to give her individuality a fantastic look on the most important day of her life. Bridal jewelry undoubtedly gives off a glossy vibe and plays a significant role in the bride's wedding outfit.
Jewelry fulfills every bride's desire to shine like a princess throughout her wedding ceremony by enhancing her appearance and personality. In truth, every bride aspires to wear distinctive jewelry that makes her stand out and complements her outfit and overall appearance.
As a result, it's essential to prepare ahead of time and carefully choose each piece of jewelry while keeping in mind the bride's clothing and personality as a whole.
Here are 6 Latest Gold Jewellery Ideas  a bride can utilize to select her wedding jewelry for the most spectacular appearance on her big day:
Before providing any advice, it is crucial to realize that jewelry planning must be done beforehand. Any bridal jewelry can take up to a month to complete if it is produced to your specifications or requires customization to fit your wedding attire. Thinking about your jewelry as soon as the wedding date is set is the best action. Other crucial steps include creating a budget and making enough plans, so the money you spend on jewelry doesn't burn a hole in your wallet.
1. Matching neckline with necklace silhouette:
It is a crucial factor to consider when choosing jewelry, especially necklaces. The exquisiteness of the chain and the attractiveness of the dress will both be tarnished if the necklace silhouette does not match the neckline.
2. Purchase chunky, detachable jewelry:
Most bridal jewelry is so heavy that it is rarely worn after the wedding ceremony. The best choice is to choose hefty jewelry that can be removed later. These pieces, mainly necklaces, and earrings, are easily accessible in the shops because of the increased demand for such things.
3. Choose maang tikka's size according to your forehead:
Due to their resurgence in popularity, brides like donning maang tikkas during their wedding festivities. Yet, it must be selected while considering one's forehead size. Brides with large foreheads look best wearing a heavier, larger maang tikka, while those with smaller foreheads look best wearing a little, delicate one. 
4. Select a nose ring based on your personality:
The custom of donning a nose ring, or nath, during wedding rituals has spread throughout India and is no longer restricted to the country's northern regions. Brides should choose nose rings that match the shape of their features to give their personalities an exquisite image.
5. Use diamond studded gold jewelry:
Mixed jewelry made of gold and diamonds is currently trendy, and when explicitly made in a heavy-set style for wedding occasions, it also has an excellent classic effect. It is an attractive option that one can wear to attract attention to other events as well.
6. Be comfortable:
In addition to considering these suggestions while selecting jewelry for a special occasion, comfort is also crucial. So, careful planning and selection should ensure the bride is at ease during the event.
Conclusion
No matter what, always remember that today is your wedding day and that you want to cherish the memory of it. Thus, act how you feel is appropriate. Nothing can make you look bad in something if you feel comfortable wearing it. Therefore, rock your outfit with complete assurance.